Career
Graduated from Osaka City University Faculty of Medicine in 1996
Department of Plastic and Reconstructive Surgery, Osaka City University Hospital, 1996 – 1999
Osaka City University Graduate School of Medicine, 1999 – 2003
Department of Plastic and Reconstructive Surgery, Osaka City University Hospital, 2003 – 2005
Department of Plastic and Reconstructive Surgery, Sano Memorial Hospital (Part-time)
Department of Plastic and Reconstructive Surgery, Daito Central Hospital (Part-time)
Ritz Cosmetic Surgery Tokyo Clinic, 2005 – 2008
Primo Azabujuban Clinic, 2009 ~
Head Director, Medical Corporation Association Primo, 2011 ~
Part-time Instructor, Kobe University Hospital Aesthetic Surgery, 2020 ~
Head Director, Primo Azabujuban Clinic, 2020 ~
Qualifications and Academic Affiliations
Doctor of Medicine
Board Certified Doctor, Japan Society of Plastic and Reconstructive Surgery
Board Certified Doctor, Japanese Society of Aesthetic Plastic Surgery
Board Certified Doctor, Japanese Society of Aesthetic Surgery
Anesthesiologist certified by the Ministry of Health, Labor and Welfare
Member of International Society of Aesthetic Plastic Surgery (ISAPS)
International Member of American Society of Plastic Surgeons (ASPS)
Member of Japan Society of Cranio-Maxillo Facial Surgery
Member of Japan Society of Laser Surgery and Medicine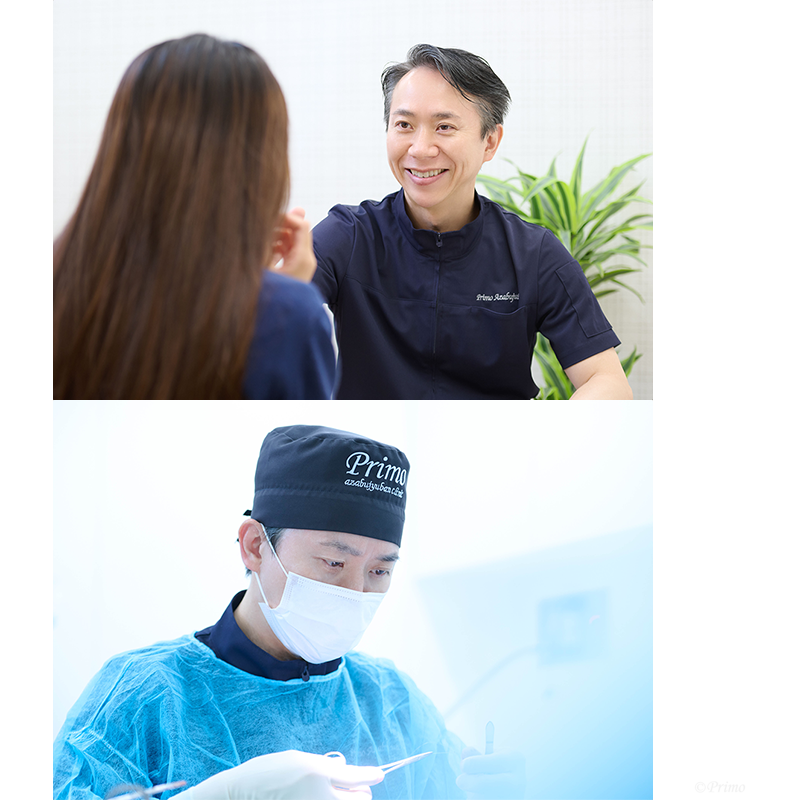 Greetings
After becoming a specialist in plastic surgery, I chose cosmetic surgery as my area of expertise.
I actively participated in conferences and was able to experience many cases in clinical practice, and obtained specialist certification from the Japanese Society of Aesthetic Surgery (JSAPS) and the Japanese Society of Aesthetic Surgery (JSAS).
I also trained in anesthesiology for safe and painless treatment, and obtained certification as an anesthesiologist from the Ministry of Health, Labour and Welfare under the supervision of an anesthesiologist.
We will carefully and accurately perform the procedure you decide on through an accurate examination and consultation with a specialist to ensure that we exceed all patients's expectations.
We have the staff and facilities in place to provide medical services in a safe and painless manner.
We also perform many relatively difficult surgeries and revisions of surgeries performed at other hospitals, and I hope you refer to our website for detailed explanations of these cases and they help you understand the stages of your own surgery.
Certification