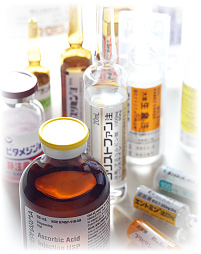 Types of drip infusions and injections
NMN(β-Nicotinamide Mononucleotide)
Skin boosting drip infusion
Anti-aging drip infusion / injection
Metabolism-boosting injection
Fatigue recovery drip infusion / injection
Detox drip infusion / injection
High-dose intravenous vitamin C therapy
Placenta extract injection
NMN(β-Nicotinamide Mononucleotide)
The anti-aging effects of taking NMN have been reported to dramatically change the appearance and function of the body, and it is attracting attention around the world as a rejuvenation drug.
Skin boosting drip infusion
This contains a lot of vitamins for healthy skin.
It improves dullness and roughness of the skin.

Vitamin C + L-Cysteine + Vitamin B1, B6, B12
Anti-aging drip infusion / injection
They are rich in antioxidants as well as having a whitening and metabolism-boosting effect.

Alpha Lipoic Acid + Vitamin C + L-Cysteine
Metabolism-boosting injection
Alpha lipoic acid and L-carnitine both promote metabolism making it easier to lose weight.
This injection may also temporarily improve your sensitivity to cold.

Alpha Lipoic Acid + L-Carnitine
Fatigue recovery drip infusion / injection
They help repair liver cells and enhance detoxification.
They also enhance fat and carbohydrate metabolism.


Alinamin + Glycyrrhizin + Glucose
Detox drip infusion / injection
They are recognized for their ability to detoxify the body and strengthen liver function.

Alpha Lipoic Acid + Glutathione
High-dose intravenous vitamin C therapy
It is a very effective therapy that circulates around the body.
Placenta extract injection
It can be used alone or in combination with any of the other drip infusions and injections.
Post-operative course, risks, side effects, and complications
In order to prevent these symptoms from occurring, we take measures for each of them and perform treatment with the utmost care.
We have a solution for any symptoms you may experience.
We will do our best to improve your symptoms.
Post-operative course
Bruising
There may be bruising where the needle was removed.
It will disappear in 1 to 2 weeks.
Pain
Usually there is little to no pain, but sometimes the needle insertion area may be sore.
Lifestyle
There are no restrictions for bathing, exercise, and alcohol.
Risks, side effects, and complications
Drug allergies
Although rare, symptoms such as a rash, itching, breathlessness, and nausea may indicate an allergic reaction to the injected drug.
We will treat any allergies.
Hardening of the skin around the puncture site
Repeated drip infusion may cause the needle insertion area to harden.
It is less likely to happen if the puncture site is varied.
Unusual pain at the needle insertion area
If the drug leaks out of the vein for some reason, it can cause severe pain and swelling.
Local and oral therapy is used to address any leakage.
Pins and needles from the puncture site to the fingertips
Although very rare, it is thought to be nerve damage from the needle.
We use the thinnest needle possible, and in the unlikely event that any symptoms appear, treatment for nerve repair will be provided.
Cannot give drip infusions or injections
Although unusual, if the blood vessels are abnormally small, it may not be possible to give drip infusions or injections.
Supervising Doctor
Under the supervision of our plastic surgeons, we operate our website in accordance with medical advertising guidelines.
NORIHIRO OHBA M.D. Ph.D.
HEAD DIRECTOR/DIRECTOR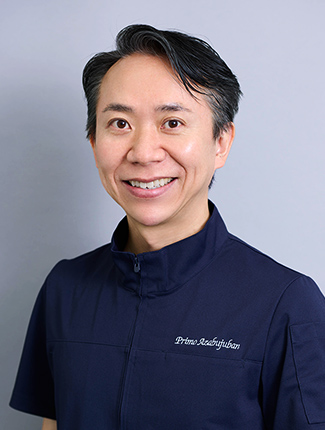 Qualifications and Academic Affiliations
Doctor of Medicine
Board Certified Plastic Surgeon, Japan Society of Plastic and Reconstructive Surgery
Board Certified Aesthetic Plastic Surgeon, Japanese Society of Aesthetic Plastic Surgery
Board Certified Aesthetic Plastic Surgeon, Japanese Society of Aesthetic Surgery
Anesthesiologist certified by the Ministry of Health, Labor and Welfare
Member of International Society of Aesthetic Plastic Surgery (ISAPS)
International Member of American Society of Plastic Surgeons (ASPS)
Member of Japan Society of Cranio-Maxillo Facial Surgery
Member of Japan Society of Laser Surgery and Medicine
Career
Graduated from Osaka City University Faculty of Medicine, 1996
Osaka City University Hospital Plastic and Reconstructive Surgery, 1996-1999
Osaka City University Graduate School of Medicine, 1999-2003
Osaka City University Hospital Plastic and Reconstructive Surgery, 2003-2005
Sano Memorial Hospital Plastic and Reconstructive Surgery(part-time)
Daito Central Hospital Plastic and Reconstructive Surgery(part-time)
Ritz Cosmetic Surgery Tokyo Clinic, 2005-2008
Primo Azabujuban Clinic, 2009~
Head Director, Primo Medical Corporation, 2011~
Part-time Instructor, Kobe University Hospital Aesthetic Surgery, 2020~
Head Director/Director, Primo Azabujuban Clinic, 2020~