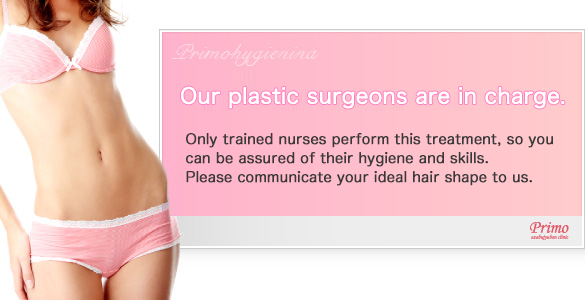 Features of our clinic
We use a diode laser.
You needn't worry if you have pigmentation or are sensitive to pain.
Our plastic surgeons are in charge.
Our surgeons are in charge of everything from counseling, output settings, and follow-up services.
Laser treatment of the delicate zone is performed by an experienced female nurse.
Only trained nurses perform this treatment, so you can be assured of their hygiene and skills. Please communicate your ideal hair shape to us.
Privacy
Changing and treatment are done in a private room, so you can relax and enjoy the treatment.
Hygiene
We are a medical institution, so you don't have to worry about hygiene at all. Disposable panties are provided.
It is now common knowledge that hair removal from the delicate zone is a popular for wearing sexy swimsuits, low-rise fashion, and thongs.
Urine, menstrual blood, discharge, and excrement attached to under-hair can easily breed bacteria in the private area, causing itching, discomfort, and odor, making private area hair removal not only stylish but also hygienic.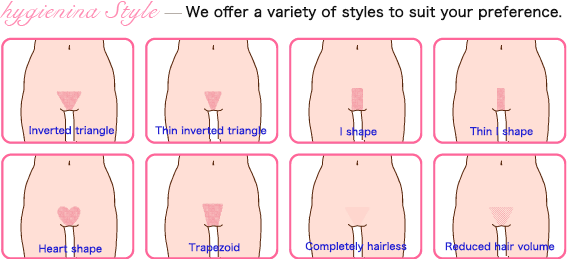 Self-treatment problems
Self-treatment methods include shaving (razors, shavers) and plucking (waxing, tweezers and epilators).
Private parts are very sensitive areas and very difficult to shave by yourself.
Repeat shaving is not only time-consuming, but it also damages the skin.
Shaving also causes a stinging discomfort due to hairs growing back immediately afterwards.
Repeated hair removal by hair plucking, epilator, or waxing can cause the pores to become more prominent and increase the number of ingrown hairs.
Advantages of hair removal
Stylish
You can wear sexy shorts, swimsuits, etc. You won't have to worry about hair sticking out after going to the bathroom or when wearing a swimsuit.
Clean
If there is no urine, menstruation, discharge, or excrement present, this prevents the growth of germs.
Comfortable
It reduces itching, discomfort, and makes you feel less stuffy and more comfortable.
Smell
By removing pubic hair, the secretion from the apocrine glands is reduced, as is odor.
Prevention of skin diseases
Dermatologically, pubic hair increases the rate of bacterial growth and can cause chronic eczema. Hair removal also prevents STDs such as phthirius pubis.
Parts
V-line hair removal
V-line hair removal refers to the treatment of pubic hair on the lower abdomen and around the pubic bone.
You can choose the shape.
It is possible to remove hair from the entire area, or just reduce the volume of the hair.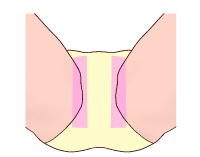 I-line hair removal
I-line hair removal refers to the treatment of pubic hair on the inner upper thighs.
This method is popular among those who wear thong underwear.
It is very hygienic as it prevents blood and discharge from sticking to the skin.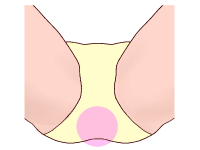 O-line hair removal
O-line hair removal refers to the treatment of pubic hair around the anus.
This is the part of the body that is most difficult to treat by yourself.
This hair removal method is also popular among those who wear thong underwear.
FAQ
Are you worried about pain? There is no need to worry.
Our medical hair removal laser is the latest model of the diode laser, LIGHTSHARE.
It is equipped with a cooling system, so even those who are sensitive to pain can have the procedure done.
Anaesthetic cream can also be used if desired.
How long does it take to complete the treatment?
It usually takes about 15 minutes to remove hair from the V line.
The combination of VIO takes about 30 minutes.
How many times do I need to do the treatment?
It depends on the amount of hair, hair texture, and area of the body, but 3-5 sessions are usually recommended.
I'm hairier than others, so I'm worried about whether I can remove all of the hair.
The more hair you have, or the more bristly your hair is, the better you will respond to medical laser hair removal, so don't worry.
Is there anything I need to do before treatment?
To save costs, you can shave the desired area at home before coming to the clinic for treatment. Otherwise, we will do it.
Please use a razor blade, as hair plucking and creams will reduce the effectiveness of the laser hair removal treatment.
I have sensitive skin and allergies… can I still have treatment?
We use FDA-approved lasers which are recognized for their safety.
Before treatment, you will be examined by a medical specialist who will set the laser output according to your skin type and condition.
Fees
All fees include tax.
Pubic Hair Removal (VIO)
1 session
¥ 31,521
3 sessions
¥ 92,400
5 sessions
¥ 138,600
Additional sessions
¥ 25,216
Supervising Doctor
Under the supervision of our plastic surgeons, we operate our website in accordance with medical advertising guidelines.
NORIHIRO OHBA M.D. Ph.D.
HEAD DIRECTOR/DIRECTOR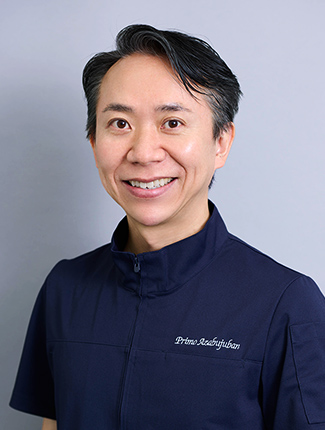 Qualifications and Academic Affiliations
Doctor of Medicine
Board Certified Plastic Surgeon, Japan Society of Plastic and Reconstructive Surgery
Board Certified Aesthetic Plastic Surgeon, Japanese Society of Aesthetic Plastic Surgery
Board Certified Aesthetic Plastic Surgeon, Japanese Society of Aesthetic Surgery
Anesthesiologist certified by the Ministry of Health, Labor and Welfare
Member of International Society of Aesthetic Plastic Surgery (ISAPS)
International Member of American Society of Plastic Surgeons (ASPS)
Member of Japan Society of Cranio-Maxillo Facial Surgery
Member of Japan Society of Laser Surgery and Medicine
Career
Graduated from Osaka City University Faculty of Medicine, 1996
Osaka City University Hospital Plastic and Reconstructive Surgery, 1996-1999
Osaka City University Graduate School of Medicine, 1999-2003
Osaka City University Hospital Plastic and Reconstructive Surgery, 2003-2005
Sano Memorial Hospital Plastic and Reconstructive Surgery(part-time)
Daito Central Hospital Plastic and Reconstructive Surgery(part-time)
Ritz Cosmetic Surgery Tokyo Clinic, 2005-2008
Primo Azabujuban Clinic, 2009~
Head Director, Primo Medical Corporation, 2011~
Part-time Instructor, Kobe University Hospital Aesthetic Surgery, 2020~
Head Director/Director, Primo Azabujuban Clinic, 2020~